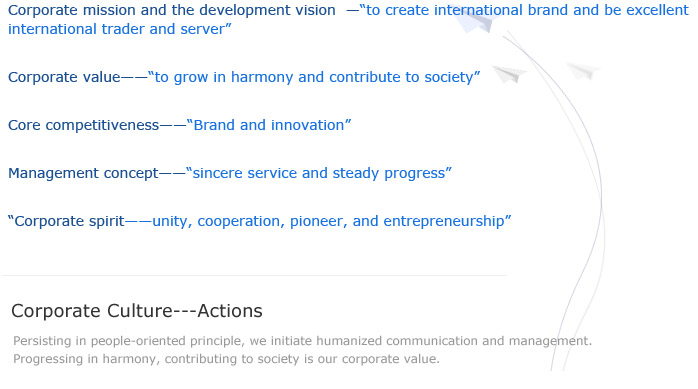 Fulfill Our Social Responsibility
The marketing networks of GZLI are all over the world. It plays a very important role in guarantee the normal manufacture of lower course manufacturing enterprises, boost the employment of society, and keep social harmony & steady. By stressing to fulfill our social responsibility, GZLI pays taxes according to law. As one of the corporate value "contribute to society", GZLI gives the feedback about the achievements of development to society in many ways. Responds vigorously and organizes to take part in public benefit activities such as the Asian Games in Guangzhou, Healthy City for Better Life and Charity Bazaar. It also supports poverty-stricken area. Sends live-in village official, donates goods and money, helps to change the aspect of poverty-stricken area.

Create Harmonious Enterprises
GZLI insists on three dimensionalities: achieving harmony of enterprise and society, achieving harmony of enterprise and client, achieving harmony of enterprise interior. Not a single one can be omitted.

Make Brand Activities
During the development of corporate culture, GZLI changes the thought and updates the ideas vigorously. It also innovates the manner continuously, builds cultural atmosphere of positive progress and relax harmony. Inject brand new vitality and energy into the enterprise.
Branded Cultural Events One: "Art Performance" (once in two years)
A performance of self-conductance self-played and self-organized by GZLI's employee. It's full of variety. Not only it expresses the staff's interests and specialties, but also enriches the staff's cultural life. Through the innovative cultural activities, it strengthens the edification of the staff's thought and culture, improves the communications between the staff, arouses their enthusiasm of love company, cherish post and respect work, boosts the cohesive force in enterprise greatly, builds cultural atmosphere of relax harmony, contributes to cultivate a health enterprise culture.

Branded Cultural Events Two: "The Stars of GZLI" Large Award Ceremony (once in a year)
Exhibit GZLI's good image of science development and courage high, emerge the humanistic spirit of the staff's cooperation and innovation. At the same time, GZLI lets all their staffs feel that the company has focused on the confidence and determination to do great things. Advanced character and advanced achievement inspire everyone's vitality and energy. It form an atmosphere of everyone learn post knowledge and everyone to be business exports inside the company. It lays a good foundation for creating a learning and innovative enterprise, implementing "Brand & Innovation" development strategy.

Party Activities
The party activities which using party members as backbone are vivid and dramatic spread, carry out easy and funny also not lack of education significant activities with around work and life theme every year, cause the attention of all the staff and lead by example.

Other Recreational Sports Activities
For activating enterprise atmosphere, GZLI also launches many recreational sports activities of beneficial health of both body and mind according to the general staff's hobby and requirements, e.g. organizing ball activities every week, organizing mountaineering activities and ball games etc from time to time.